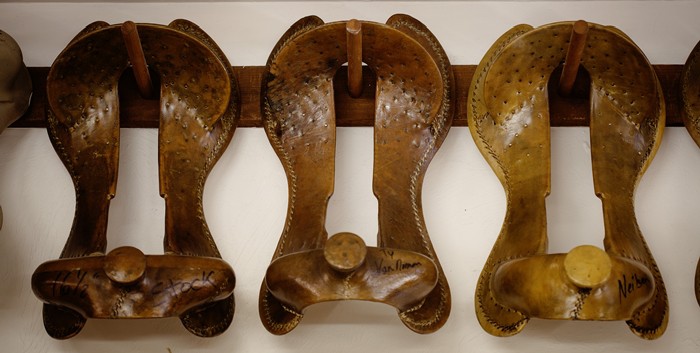 A saddle is only as good as the tree under it. Our trees are all made of wood, aged and cured beforehand to insure no warping or twisting. The horn is then mounted and the entire tree is covered with wet rawhide.
The width and the height of the gullet along with the flare of the bars determine the way that the saddle sets on the horse's back. The width is measured straight across from where the bars join the fork to the same point on the opposite side. Height is measured when the tree bars are resting on a flat surface. The distance from this surface (lowest part of the bars) to the center spot at the front of the gullet (directly under the front tip of the horn) is the height. In addition to the correct width, the bars of a saddle tree must have the proper angle and "twist" to fit a certain type of horse. Bars are broken down into the following general categories: Standard, 53⁄4″; Semi-Quarter Horse 6″ (this is the most all around width), Quarter Horse, 61⁄4″; Full Quarter Horse, 61⁄2″-7″; and Arabian, 61⁄4″-71⁄2″.
Our recommended gullet height is 71⁄2″-9″ with most saddles being made on an 8″ high gullet. We use wide bars which are designed to distribute the pressure evenly. We find it's superior in all of our field tests.
The width of the fork, swell or pommel, is measured directly across the back of the fork at the widest point of the swell.
The cantle width is from one edge to the other at the widest spot. Height is from the top of the tree to the top of the cantle.
Seat length is from the top of the cantle to the base of the saddle horn.
The diameter of the saddle horn is measured straight across the top. The height is from the top of the fork to the front of the horn cap. Most horn styles are pictured in the catalog on various saddles we have produced.
Each saddle is completely handfit and hand tooled by one craftsman – from tree to finished saddle. Each saddle is that craftsman's own "work of art." They are each marked by a serial number and recorded in our permanent files. All of our saddles are made in Elko and bear the famous trade stamp.